Frequently Asked Questions
Why choose XPLOR Boards?
Military Grade PVC Construction with a tight Drop Stitch Core.
6 D-rings + Removable Bungee Cargo Area.
Child friendly aluminum shaft + reinforced nylon blade paddle.
Center Carry handle.
Textured Extended EVA deck pad.
Do you offer an adjustable paddle?
Yes, all of our paddles are adjustable and float!
What is the weight capacity?
Kids – 7'6″ x 25.5″ x 4″: Ages 5 to 10, 100lbs weight capacity.
Youth – 9′ x 29″ x 4″: Ages 10 to 15, 150lbs weight capacity.
Adult – 10'6″ x 32″ x 4″ (4″ inches thick): Ages 15+, 220lbs weight capacity.
Adult – 10'6″ x 32″ x 6″ (6″ inches thick): Ages 15+, 320lbs weight capacity.
What are the best accessories for paddleboarding?
Xplor Boards offers great accessories to ensure the best paddle experience! Xplor Board's deck coolers are a great accessory because they fit perfectly on the front of your board – It's important to stay hydrated and fueled while on the water.
Are XPLOR Boards paddleboards suitable for beginners?
Yes! Our boards are designed with a wider base that gives a solid amount of good foundation.
Tips For Beginners* Until you get your "sea legs" it's best to kneel or sit on the board until you feel more comfortable. Lakes are the best place for beginners because the water is flatter than rivers or oceans. Always remember that sunscreen*
Can I use my board for exercise?
For Sure! Xplor Boards are strong and rigid and can support any activity that a traditional hard board supports.
Can I bring my dog on an XPLOR Board paddleboard?
YES! Our furry friends are welcome! Be sure to trim your furry friends nails before your paddle session just to ensure safety for everyone. Also, make sure that it's an activity that your furry friend wants to partake in.
Are XPLOR Boards paddleboards durable?
YES! Our boards are constructed with: Military Grade PVC Construction with a tight Drop Stitch Core.
Our inflatable paddle boards are more durable than a traditional hard paddle boards that can easily be cracked, damaged, or dinged.
What type of maintenance is required for an inflatable SUP?
The biggest thing to remember – Do not leave your Xplor Board fully inflated in the hot sun for an extended length of time. This can cause the pressure to expand damaging your SUP.
Also, remember to rinse off your board with fresh water especially after being in salt water. The board can be easily cleaned with a washcloth and some dish soap.
Are the fins removable?
All Xplor Boards have 2 permanent fins and one removable snap lock fin.
Where is the best place to store my XPLOR Board paddleboard?
It is always important to rinse and dry your iSUP before rolling it up- Once your Xplor Board is rolled up you can easily place it in the included backpack with all the accessories and place it under your bed or put it in a closet. Storing your board in a garage or shed is fine too, just make sure to place it in a container that protects it board from critters or the elements.
*The benefit of owning an iSUP (inflatable standup paddleboard) STORAGE! Storing a hard board is a chore because of size.
Is there anything else I need to buy to start paddling?
Xplor Boards come with everything you need to get paddling. All of our boards come with: the board, 1 removable fin, a 3-piece adjustable paddle, an ankle leash, a backpack, a single-action hand pump, and a repair kit.
*It is important to remember to wear your PFD (Personal flotation Device)
Can I fly on an airplane with an inflatable SUP?
Yes! When our boards are deflated and placed in the included backpack – you can check it with the rest of your luggage to "XPLOR" the world. Taking our boards will save you so much money compared to trying to take a hard board.
How hard is it to pump up an XPLOR Board paddleboard?
It's not that difficult – it will generally take about 10-15 minutes to inflate and might give someone a little bit of exercise.
What is the recommended air pressure for an XPLOR Board paddleboard?
We suggest that our boards should be pumped up to between 12-15 PSI. Our boards come with a single action / single chamber hand pump.
Why do the smaller boards have a D-ring on the front of the board?
The D ring is placed at the front of the board because younger paddlers just starting out might need some time to gain stability and understanding of how to paddle. A parent or stronger paddler can connect their board to the kid board and pull the board along. The ring is placed as an extra safety measure – perfect for those windy days on the water.
Family owned paddle board business. Our first board was created in 2018. Each paddle board is created with a purpose.
Kids need a board and paddle that is lighter and smaller, making it easier to maneuver for them. Youth are ready for a board that fits them as they are growing.
Adults, we have you covered as well, with boards that offer multiple features. Each paddle board is developed with safety in mind.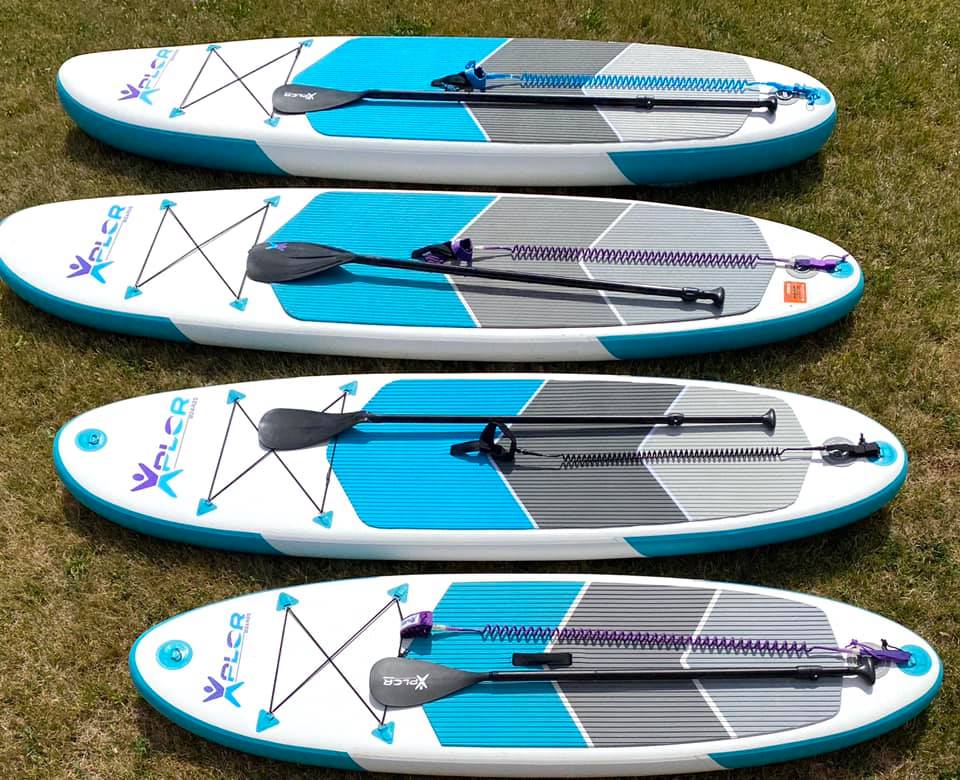 Sign up to receive a 5% discount code, along with exclusive offers, tips, and more…